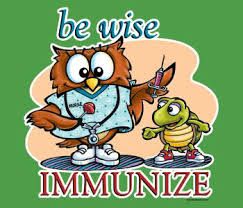 Back to School Immunizations
As you get your children ready to go back to school, don't forget to make sure they're up to date on their immunizations.  Most children get the necessary vaccinations by age four, but there are a few that require booster shots.
Children can easily transmit illnesses to one another due to poor hand washing, uncovered coughs, crowded classrooms and other factors. When children aren't vaccinated, they are at increased risk for disease and can spread disease to others in their classrooms and communities. This includes babies too young to be fully vaccinated and people with weakened immune systems due serious health conditions.
Dunklin County Health Department offers immunizations for infants, school age children and adults. Please contact us at 573-888-9008 to schedule an appointment. Please bring a copy of  the shot record and insurance for all those needing immunizations. At this time only one parent/guardian will be allowed with the child/children for each visit. Masks are required. 
For more information about required immunizations, please visit:
https://health.mo.gov/living/wellness/immunizations/schoolrequirements.php