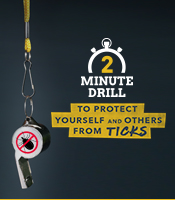 Tick Season Continues, Use Caution!
DHSS issues statement to stress abundance of caution regarding tick-borne illnesses.
JEFFERSON CITY, Mo – On the heels of the Center for Disease Control (CDC) advisory in May, the Department of Health and Senior Services (DHSS) wants to again remind everyone to take precautions to prevent tick bites. According to the CDC, tick and mosquito-borne illnesses increased three-fold between 2004 and 2016. Nine new diseases spread by ticks and mosquitos have been discovered since 2004, including Zika in mosquitos and Heartland and Bourbon viruses in ticks.
"This time of year, we remain concerned about the prevalence of ticks and mosquitos throughout Missouri. Out of an abundance of caution, this is our fourth statement since April reminding Missourians to take two minutes to prevent tick bites by using insect repellant and checking for ticks after spending time outdoors. Those two minutes could save your life or the life of a loved one. These steps will help prevent both established and emerging tick-borne disease," said Dr. Randall Williams, DHSS Director.
Late spring through summer are the prime months for tick activity, although DHSS receives reports of tick-borne illness throughout the year, including winter months. According to Dr. George Turabelidze, DHSS State Epidemiologist, "DHSS communication and collaboration with clinicians is critical to timely identification and treatment of tick-borne illness. We don't want anyone to experience tick-borne illness, but if they do we want to accurately and quickly diagnose the disease."
Missouri's 2018 reported cases of Rocky Mountain spotted fever and ehrlichiosis are lagging slightly behind 2017 cases but are expected to be similar to prior years. However, a possible case of Bourbon virus has been reported in an adult resident of St. Louis County. The individual has recovered. While initial testing was negative for Heartland and Bourbon virus, due to clinical symptoms and in an abundance of caution, additional different testing was conducted. Test results indicate a possible case of Bourbon virus. Confirmation of the possible positive test results, which require blood samples collected over time, will not be available for two to three weeks. CDC is the only entity that conducts Heartland and Bourbon virus testing.
The patient with possible Bourbon virus reports being bitten by a tick after spending time outdoors in the southwest St. Louis area. The patient does not report spending time in specific locations associated with prior positive Bourbon virus test results in people or ticks. Bourbon virus was initially identified in an individual in Bourbon County, Kansas. It has also been reported in Oklahoma and detected in ticks in Northwest Missouri, in a resident of Southwest Missouri, a resident of East Central Missouri, and now possibly a second resident of East Central Missouri.
"This potential case was identified through our collaboration with physicians, the CDC and an individual assessment of every suspected tick-borne illness in the state with special attention to emerging diseases in Missouri," said Turabelidze. "It is important for individuals and health care providers to pay attention to symptoms and be open to the possibility of tick-borne illness, especially during the warmer months."
"I'm thankful for our state epidemiologist, clinicians and the CDC for their collaboration and heightened surveillance. This possible case may not have been identified if not for their diligence," said Williams. "It is so important to seek medical attention if you are bit by a tick and develop flu-like symptoms and be sure to let your provider know tick-borne illness is a possibility. But remember, 52 percent of people have no recollection of being bitten by a tick, so if you experience flu-like symptoms in the summer you and your health care provider should consider the possibility of a tick-borne illness," said Williams.
Symptoms of these tick-borne diseases typically begin within two weeks of a bite by an infected tick and for most people include a sudden fever, body aches and headache. If you find an attached tick, remove it promptly. The longer it is attached the greater the risk of infection. If symptoms occur following a tick bite, or even after exposure to a tick habitat, be sure to tell your health care provider.
"As we have indicated previously, Bourbon virus and Heartland virus are present in Missouri. If Bourbon virus follows the trend of Heartland virus it is reasonable to expect we will see reports of these emerging illnesses in different locations in Missouri," said Williams. "This is why everyone should be concerned about tick bites no matter where they spend time outdoors."
Despite the variety of ticks throughout Missouri, everyone can safely enjoy the outdoors by taking two minutes to prevent tick bites:
·         Use an insect repellent with a minimum of 20% DEET, picaridin, or IR3535 on exposed skin and clothing. Choose a product that lasts several hours whenever you spend time outdoors. DEET products should not be used on infants under two months of age.
·         If you are also using sunscreen, apply it first, let it dry, and then apply repellent. Products that contain both sunscreen and repellent are not recommended
·         When possible, wear protective clothing (light colored, long sleeved shirts and pants) when outdoors to keep ticks off skin.
·         Always check yourself, family, or friends for ticks after spending time outdoors. Change your clothing or shower quickly after spending time outdoors when possible.
For more information visit https://health.mo.gov/living/healthcondiseases/communicable/2minutedrill/
About the Missouri Department of Health and Senior Services: The department seeks to be the leader in protecting health and keeping people safe. More information about DHSS can be found at health.mo.gov or find us on Facebook and Twitter @HealthyLivingMo.